As you probably know by now I'm on a mission to help 1,000 business do Better Smarter Marketing. One of the principles of Better Smarter Marketing is Analysis. And by analysis I don't necessarily mean digging into the depths of Excel spread sheets. (although sometimes I do, I'm a bit of a geek and I do love a good spreadsheet!) But really what is mean is Review.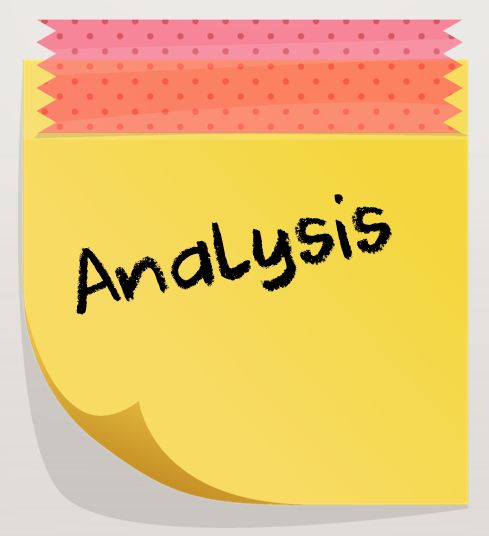 ● Review what is and isn't working for you.

● Review your customer numbers and where your new customers come from.

● Review your sales turnover figures and if you are on track to meet your financial goals.

● Review how much you of your marketing budget you have spent.
Every month I review my marketing activity and monitor the progress of my mission and today I'm going to share that review process with you. But since we've just started a new financial year I'm actually sharing a full year review – wowzers!
Marketing Mission Update
As of April 5th 2017 I have helped (drum roll please)… 287 businesses. Now let's break that down. Because not all of these businesses are customers, in fact only 25% of them are clients that I have worked with on 1 to 1 projects, Marketing Surgeries and workshops/training courses.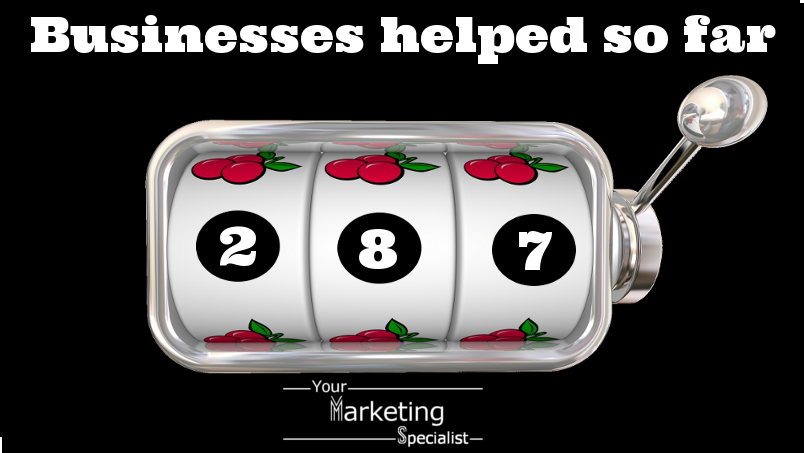 So how else do I help businesses do Better Smarter Marketing?
Well half the people I help are members of my Marketing Lounge community on Facebook, where I run Monday Blog Club and offer marketing advice and support to business owners.
And a further 20% are businesses I helped through volunteering with the York International Women's Festival.
10% is from talks I've given at networking groups. Yes, I know that gives me 105% because 5% of businesses I've helped so far belong to more than category.
Why is this information useful? Because I can also see which activities help the most people and which people are most likely to convert into a customer. Understanding where your customers come from can help you make decisions about where is best to spend your time, money and effort with your marketing activities.
Let's Talk Customer Numbers
Not to brag but this year I've got 393% more customers than last year. That's right I've nearly quadrupled the number of clients I've worked with this year. Sounds impressive. Sounds like something I could shout about in a Facebook ad "I quadrupled my customers and you can too" or "Free training – how I quadrupled my customers". But I won't because there was no magic formula, nothing to show. Quite simply last year I was working in my business part time, this year I went full time and changed my business model from solely working one to one with a select number of clients to running workshops as well as one to one projects.
I am sharing this with you because it's important to understand the truth behind the numbers. Because more customers doesn't always mean more sales. And more sales doesn't always mean more profit.
So as well as knowing how many customers you have, you also need to know how much they spend and how often.
For example 40% of my customers are repeat customers, some of which are on a monthly marketing package so they come back every single month. I know the average order value of my customer base but more interestingly I know the AOV of a good repeat customer and how that balances out with a one off purchase as low as £5.
This is important when sales forecasting for next year or next month. It's no good attracting 10 new clients who all buy one £5 product when your sales target is to achieve 10 new customers spending £200 per month.
Sales Turnover Review
Ok so more customers for me did actually mean more sales turnover, 700% more in fact. Yep I brought in 7 times more revenue this year than I did last year. Just remember that this was from a relatively low starting point working part time last year. (Although adding a zero to your turnover is pretty awesome in anyone's book.)
Profit Review
Eek, so although I brought in more money this year I also spent more, 150% more. Luckily the maths still works out and I made a profit this year. Phew. Although only 3 times more profit compared to 7 times more turnover. Sometimes those costs rack up fast, investment in a new laptop or new online software, networking costs and then throw in some business cards and Facebook ads and your budget can be eaten away pretty quickly. That's why it's important to understand where you are spending your money in your business. Particularly when it comes to your marketing budget and measuring the results you get from investing in marketing activity.
● How many leads or enquiries do you get from advertising?
● How many referrals do you get from networking?
● How do your customers find you?
● And how much does it cost you to bring in one new customer?
Marketing KPIs
Three marketing key performance indicators you can use to review your costs, conversions and roi can be worked out using these simple sums.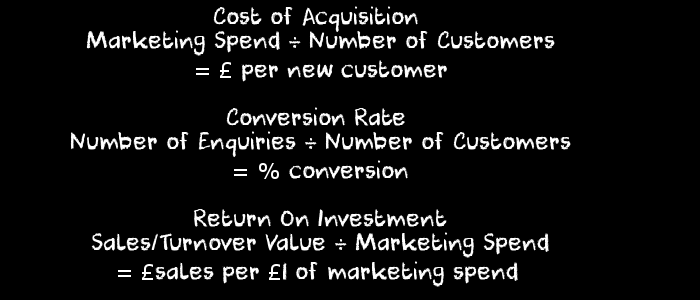 The reason this annual review has been so important for me is to set the commercial targets for 2017/18. I've been able to look at exactly where I am now and use that information to set targets for where I want to be next year. I can see how big the gap is between here and there and break the figures down into monthly targets.
Now I can develop a marketing strategy to get there and review progress against the monthly targets.
I use a simple spreadsheet for my annual marketing financial review with the formulas set to calculate the cost to acquire a new customer, the conversion rate and the return on investment for every pound I spend on marketing.
To get your hands on my Annual Marketing Financial Review spreadsheet enter your details below.