Kind isn't often a word used to describe marketing. And yet it was the concept of businesses being kinder in their marketing that inspired me to start a podcast exactly 2 years ago today.
In the first ever episode of Marketing Musings I explored what it means to be kind in marketing, to your customer and to yourself. There's so many juicy nuggets in this episode, let's explore some of my favourites and take a fresh look at Kind Marketing and what it means in 2020.Listen to this updated episode of Kind Marketing with a new take on what it means in 2020.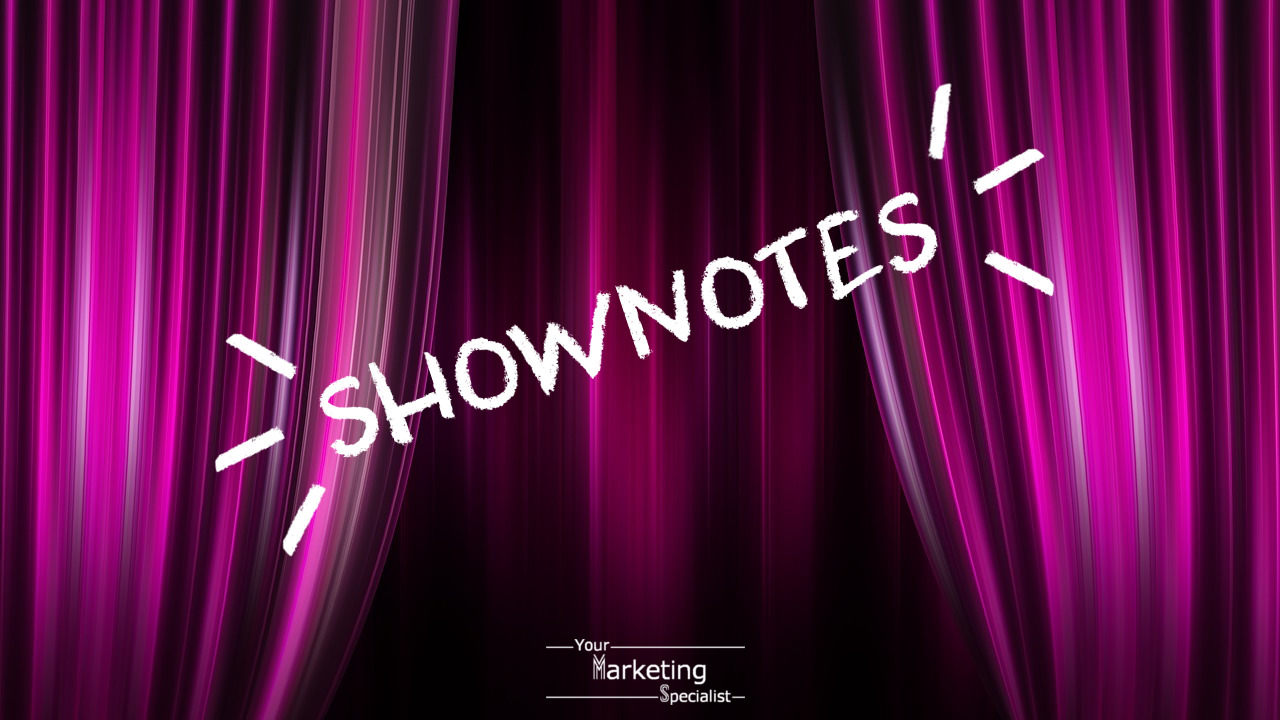 Links and Actions from this episode
Pre-order the Referral Generator System
Commit and submit your action
Share this podcast episode yourmarketingspecialist.co.uk/podcast33
Email your desired outcomes to Louise
Comment below if the ASPIRE programme resonated with you
***Episode 1 SHOWNOTES***
Share your thoughts on today's action in Your Marketing Lounge
Join Gayle in The Copy Kitchen for blog writing prompts
Read more about Amazon deliveries to car boots
Discover how Gliterberry J2O increases festive sales
More on shame and guilt marketing tactics
Shout out to Foxy Chocs in York for the delicious chocolate truffles in today's advent calendar
Podcasts to listen to
Jessica Lorimer's Smart Leaders Sell
Pat Flynn's Smart Passive Income
Podcast Transcription
Welcome to Episode 33: Kind Marketing
Today's episode is sponsored by the Referral generator System. The fastest, cheapest and easiest way to generate new customers is through trusted referrals.
Word of mouth recommendations drive up 50% of buying decisions because people are four times more likely to buy when they've been referred by a friend. Their lifetime value is 16% higher – they buy more, more often, and over a longer period of time.
Now The thing about genuine referrals is that are given out of kindness, out of a desire to help, out of the goodness of their hearts. My friend Sarah asked for hoover recommendation on Facebook the other day and got 55 replies. 55! People were falling over themselves to help her choose a new hoover. There was nothing it in for them other than satisfying the desire to be helpful, being a good friend, and maybe activating a good feeling about their previous hoover purchase, possibly even giving them a way to justifying the expense of the purchase years afterwards. But there was no financial incentive. No ulterior motive.
The Referral Generator System will help you generate genuine referrals to people experiencing the problems you solve and who are looking for the solution you offer. Or as we are going to be talking about in this episode today, people who desire a specific outcome, and are looking for the solution you offer as way to help them achieve it.
The referral generator system is on pre-sale now at yourmarketingspecialist.co.uk/referral-generator
Now let's get into today's episode: episode 33 Kind Marketing
Kind isn't often a word used to describe marketing. And yet it was the concept of businesses being kinder in their marketing that inspired me to start a podcast exactly 2 years ago today.
In this first ever episode of Marketing Musings I explore what it means to be kind in marketing, to your customer and to yourself. There's so many juicy nuggets in this episode and one of my favourites is to understand what makes your customers deliciously happy.
Not to focus on how to identify their pain points, not how to 'scratch the scab' and profit from their pain when you swoop in with a solution. But focussing on their desires, what they want to achieve and how you can help them get there.
There's a popular trend on sales pages at the moment where the headline taps into the problem the customer is facing. Lists some scenarios and gets the reader nodding in agreement that they feel that pain, shame, frustration before presenting the solution.
And the outcomes or benefits of that solution are way down the page.
But the kind way of marketing, a way I feel is going to become more and more popular into 2021 is to create your headline hook with the desired outcome. And after years of doing it the other way it's going to take some getting used to!
I've started the transition with my most recent product launch for Black Friday over the weekend the sales page headline reads
Want to get new customers without spending hours on marketing?
Tens, hundreds or even thousands of new customers?
In fact head on over to www.yourmarketingspecialist.co.uk/referral-generator (if you click here it will open in a new tab for you to follow along)
I talk about Revolutionising the way you win new customers because That fastest, cheapest, easiest way to generate new customers is from trusted referrals and that right now, in the midst of this global pandemic it's the businesses with customers that are surviving.
And the ones brining in new customers?
They are the ones that are thriving.
It doesn't make anyone feel bad about not having a consistent flow of new customers. It doesn't push anyone into the depths of pain they might be experiencing with Covid. I haven't told anyone they should be using referrals, pressuring anyone that referrals is the only way to grow a business. Of course it's not. You can make your own decision, if it's the right way for you, or you prefer to spend your time, money and effort on paid ads or showing up every day on social media. But hopefully I give you enough information for you to make that decision. And at £37 its not going to break the bank if you investigate the potential opportunity for referral generation in your business. That's really what the invitation is here.
Now I'm looking at this page with you with fresh eyes, and the concept of kindness in mind, I can see straight away areas for improvement. Depending on when you listen to this, those improvements might have already been made.
Things like how it would feel to have a regular flow of customers, the confidence, security and surety you would have in your business.
If the desired outcome is creating a sustainable business of loyal customers that you love, that are the right fit, that are recommended to you by people you trust.
Maybe it would give you more time with your family or more time making an impact with meaningful work or more time spent on revenue generating activities for your brand that can have a direct impact on the bottom line.
Sounds like a 'send me your answers on a postcard' moment, I'd love know actually what you thinking right now, seriously drop me an email at louise@yourmarketingspecialst.co.uk and tell me what your desired outcome would be and what that would mean to you.
The other thing that struck me most about this early episode is that aversion to 'shoulds'. And it's funny really how these things pan out and how we travel round in circles to meet back up with ourselves. Back in 2018 I was fed up of hearing things that businesses 'should' do. I was frustrated and overwhelmed with the growing list of 'shoulds' on my to do list.
So much so that I decided to take the word 'should' off the table. Or out of my mouth to be more precise. Simply replacing the word 'should' with 'could' reminds me that there are always more options, other ways, and that I can choose the way that suits me best.
I'm re-opening the doors to ASPIRE, my monthly implementation programme, in the next few days and right now I'm working on the sales page, here's some snippets
Market your business your way with confidence and clarity
Marketing your business shouldn't feel so hard. It also shouldn't be full of other people's "shoulds".
Create your own path
The marketing implementation programme that supports you to market your business your way.
What do you think? Let me know if it resonates with you.
Leave me a comment over on the shownotes page for this episode, we're on episode 33 so you can find it at yourmarketingspecialist.co.uk/podcast33.
Now, what I really want you to do is listen to episode 1 to dive a little deeper into the relationship between kindness and marketing. But that would be a huge drag to make you go back to the beginning and find that episode in your podcast player so, I'm going to have that episode play now right here, without you having to a thing, here we go, flashback to December 2018.
--Transcript for episode 1 is unavailable. This episode continues below--
I hope you enjoyed that trip back in time, and that you feel inspired to take action with the concept of kindness in your marketing. If you would like to commit to taking a specific action, like updating your sales page hooks to focus on the desired outcome I have a little something for you. if you go to yourmarketingspecialist.co.uk.co.uk/commit you can submit your action for accountability, and I'll send you a gentle prod reminder to check in on your progress. That link and all the other links and resources mentioned in the original episode 1 can be found of the shownotes page for this episode, which is episode 33 and can be found at yourmarketingspecialist.co.uk/podcast33
It includes the link to pre-order the Referral Generator System, on pre-sale at just £37 unless you are listening to this episode after 31.12.2020 in which case it will have gone up to £97. So go and grab yourself a bargain.
Thanks for listening and making it to the end of the show!
I hope you've taken away at least one golden nugget you can apply to your business and if you did please share this episode with a friend so that they can benefit too.
yourmarketingspecialist.co.uk/podcast33