I'm so over new year's resolutions. Every year since 2015 I've set myself a word for the year. Sometime's I'll even have a focus word for the quarter to support what's going on in my life or business at the time. In the past this has included Strength, Elevate, Consistency and Outstanding!
This year I'm doing things a little differently. I'm going with Progress as a theme and making it more of an intention. Because it's not just about making progress, it's also about how I make that progress.

Perfect is off the table.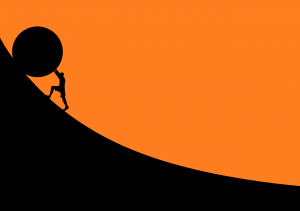 This is about progress over perfection. It's also about Ease. I want to make progress with ease. I don't know about you but I'm fed up of everything feeling hard, trying to push that rock up the mountain when it was only ever meant to be climbed over.
I want to make things easier and simpler for myself and for the businesses I work with with. I see so many business owners getting caught up in the complexity of sales funnels and ads and social media and websites and all the other things we think we should be doing. And I want to help them find an easier way that works better for them.
I also intend to have more fun! Like taking time off to make cockroach soap and burping balloons with my niece. And whilst I'm not bringing back hook-a-duck competitions in workshops anytime soon,  I intend to find more ways to have fun in my business too - it seems Covid has sucked the joy out of so many things over the last 2 years.
That means I'm reviewing my product suite. Some things will go, some will stay and some new things will be coming along *yay*!  have oodles of ideas - the benefit of actually taking time off over the Christmas break is that the Ideas Mill starts to churn! (you might have notice that I didn't post on social media or send out any email for a whole 10 days. (Not the best advice from a Marketing Specialist who preaches consistency, but sometimes even we need to just switch off.  And don't worry all my clients' content were scheduled in advance, that's what enabled me to take time off.)
To help me prioritise which idea to implement first, I'd love to know what your focus is on this year.
If there was one thing I could help you make progress with in an easy and fun way, what would it be?
*This post contains affiliate links