After the panic buying of the weekend it feels like the world has gone mad. Yet for the time being it's business as usual for many of us. So, I wanted to check in and see how business is going for you or if you have been affected by the panic.
Depending on your business model you might be experiencing cancellations already as people become increasingly cautious about attending in person events, meetings or workshops. You might be worried about future cancellations or future drops in sales.
That's why it's important to keep on marketing.
Even with self isolation and remote working there are many business functions that can keep operating.
Marketing is one of them.
Here's 5 things you can do keep on marketing during the Corona crisis...

1. Keep in Touch with Your Customers
Let your customers know what's happening, what precautions you are putting in place. If it's business as usual or if things are changing.
I've seen restaurants post about installing hand sanitiser stations and announcements about deep cleans – if you are doing this too let people know.
I've also received emails from companies providing business services like my podcast hosting provider reassuring me that they have continuity plans in place and will be able to continue offering the service with their teams working remotely from home.
2. Communicate Your Cancellation Policies
I've received emails from hotels updating their cancellation policies. Most are offering extended refund periods on cancellations even on non refundable room rates. I've seen people reducing their subscription term enabling people to cancel subscription without any penalties.
My gym offers a 3 month subscription break for holidays and illness – I'm expecting to see an email offering this suspension if we go into lockdown. And events I've booked onto have been postponed or suspended – not cancelled, no refund as the event will take place at a future date.
Whatever your policy is, make sure you tell your customers.
3. Engage with Your Audience on Social Media
Right now the pandemic is front of mind, we all need something else to think about! But it also means that you might have slipped from their mind if you don't keep showing up and reminding people that you are there.
Now is the time to keep the conversations going.
Don't be afraid to sell. People are in buying mode. They are literally queuing up to get into supermarkets with their wallets out. And not everyone is panic buying or focusing on essentials. This weekend I treated myself to a beautiful bunch of flowers – a total unnecessary purchase but one that made me feel good. Plus we've still got Mother's Day and Easter buying opportunities to tap into. And as we are approaching the end of the tax year there will be some businesses who still have unspent budgets available.
This is the equivalent of stockpiling toilet roll, its something that is often overlooked when business is going well. When we are busy it's easy to forget to capture details of future customers and spend time warming them up until they are ready. It's not until we have a gap in our booking schedule or a slump in our sales that we see the urgency in going out and prospecting for new customers. Now is a good time to create that opt in and capture contact details so that you can keep the conversation going. Then when there is a lull in sales you won't have to look as far for your next customers, they will be waiting in your pipeline.
What can I Do to Help You?
I'm still planning on launching my Aspire programme and re-opening the doors to Retain this month but I feel like something different might be needed to help small businesses maintain their marketing momentum if we end up in lockdown. If I created something would you be interested? Leave me a comment and tell me wheat you need.
Remember if there's anything else I can help you with remember you can book a a free marketing call with me using this link https://marketingcall.as.me.
Free Guide to Boosting Your Visibility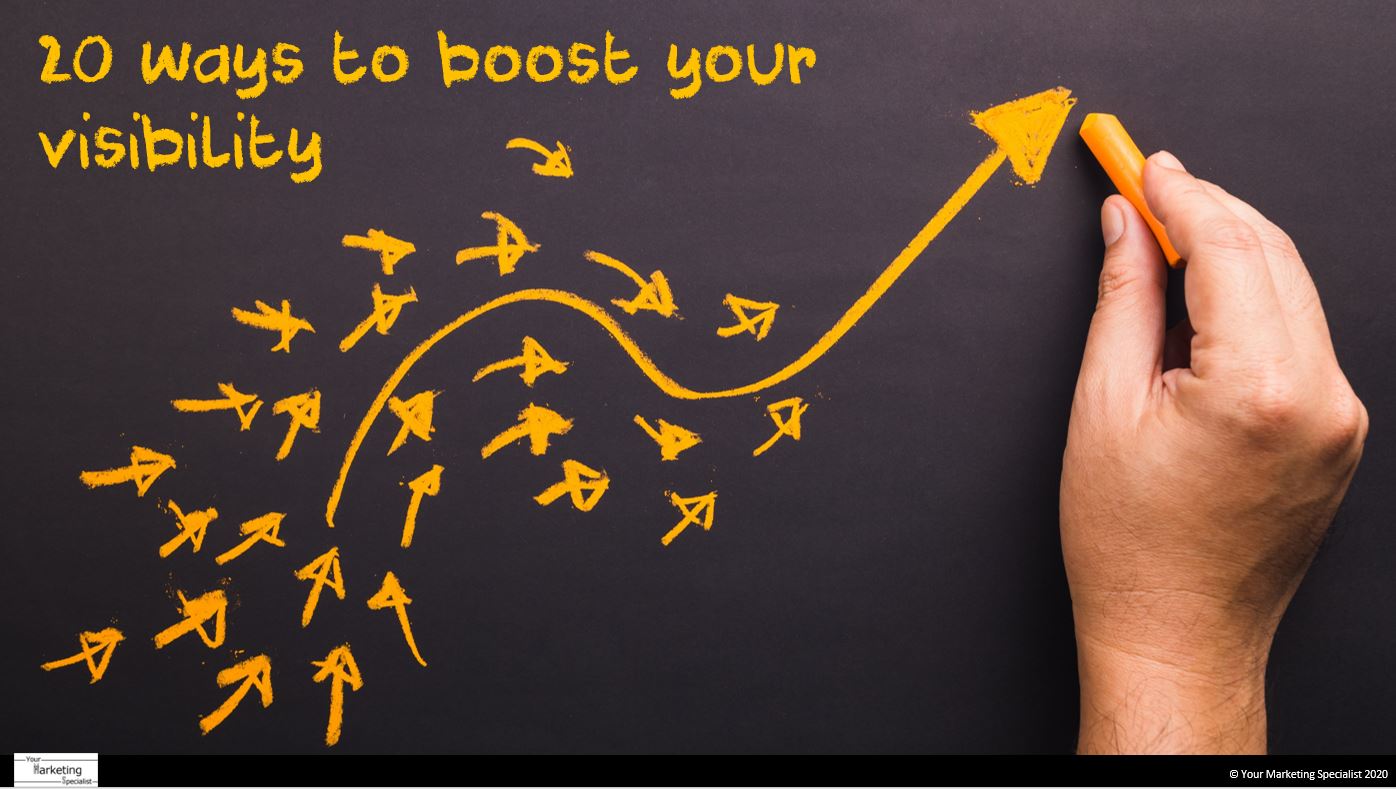 Don't forget to download your handy guide with 20 strategies to boost your visibility with hints, tips and inspiration on how to implement each one in your business.