It can be hard as a small business owner, especially if you are the only person in your business, or even if you have a freelance team it can be difficult to create a reason to bring everyone together unless there's a reason for a big celebration.
But often it's the small achievements that can go unnoticed or we celebrate on our own at home with a glass of bubbles. If we are lucky we can celebrate with friends of family, but more often than not they just don't get why we are so excited by that thing in our business.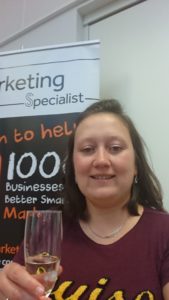 And success looks different for everyone. For some it's press coverage in a national magazine, for others it's a sale from their online shop, a 5 star review, launching a new product or service or surviving another year in business.
What does success mean to you and how do you celebrate it?
For me I love to see my client's and colleagues succeed and I can't (well shouldn't) pop a bottle of fizz every night at home to celebrate every time a client has an increase in email open rates, ranks in Google or sells a product on their website. That's one of the reasons why I'm hosting the Summer Social at NEW with Elaine to bring our friends, colleagues and clients together to celebrate.
I'd love to hear what you are celebrating already this year and if you want to celebrate with us in York we'll put your achievement up on the Woo Hoo Wall, just book your ticket here www.yourmarketingspecialist.co.uk/summersocial